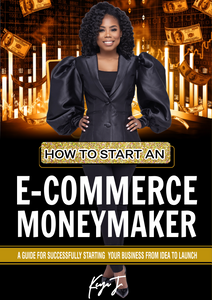 As an Entrepreneur my online store has generated Millions in revenue .  I created a guide to teach you how to start an e-commerce store that will generate revenue. Learn the steps on creating an online store from idea to launch.  "How To Start An E-commerce Money Maker" will teach you how to create a business that is marketable to your target audience. It will also provide the steps on how to create a legal business.
Informative; resourceful
As someone who has dabbled with holistic DIY for years now… I never gave thought to taking products to market. Mrs. james shared her story and offers added services to aid others in cultivating there success with the natural hair industry. If you are enterprising and in need a mentor; I recommend this book as a starting step.
How to launch a Ecommerce Money Maker
This will be the only book you need when starting your online business. Its very detailed and give valuable information to help you through out you journey of starting your new business.